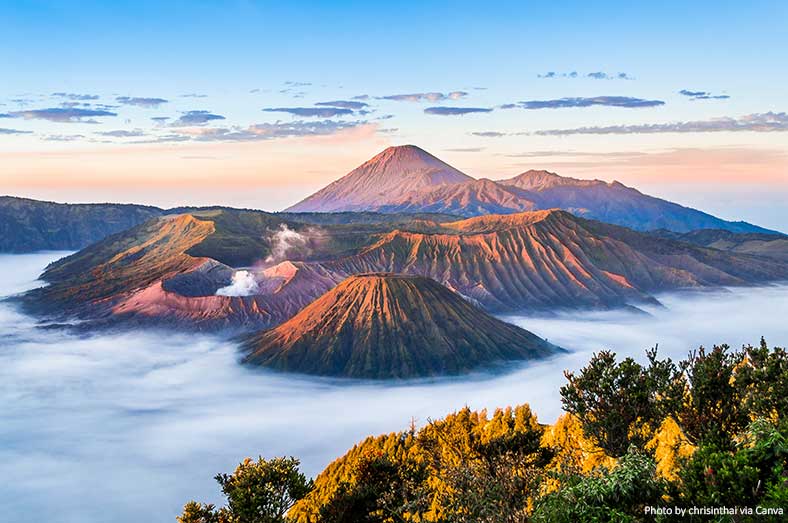 Visiting Mount Bromo natural tourism is the best idea when you visit this famous area in East Java. Most importantly, enjoying the sunrise in this region has become a favorite destination for foreign tourists.
So, don't be surprised if you will meet a lot of foreign tourists preparing on the mountain waiting for the sun to rise. So what is so special about this region so that every year there are many people who visit it?
Features of Sunrise Moment at Penanjakan Hill
Enjoying the moment of sunrise is certainly no longer a strange thing. After all, almost every mountain must have a strategic spot to enjoy it. Well, this is where the features of Mount Bromo natural attractions lie. If you climb to the top of the mountain, you will find a sea of ​​sand that is very beautiful when the sun first appears at the beginning of the day, and three rows of Semeru, Batok and Bromo mountains.
Don't we enjoy the sunrise on Mount Bromo natural attractions? What is actually meant is the view of Bromo Sunrise that we see from the mountain climb. Because from that location we can enjoy the true beauty of the region.
"The Famous Sunrise" Who Becomes Targeted by Travelers
Inevitably, the beautiful moment was dubbed "The Famous Sunrise" by most foreign media. Because it is very famous and has become the target of tourists from various countries. So, how can you enjoy the moment and when is the right time? To climb the mountain on foot is certainly not possible. In the location around the inn, there are many jeeps ready to be hired to deliver tourists. Well, leave at around 3 am, so you must be ready beforehand at the inn.
When you visit Bromo Tengger Semeru National Park, you can not only climb Mount Semeru, but also enjoy views of the Savanna on Mount Bromo and the sea of ​​whispering sand. By visiting this Savana, you will find the atmosphere in the hills of Teletubbies.
What's with Savana on Mount Bromo?
Savana is indeed not to be missed when visiting Bromo Tengger Semeru National Park. How come? After gazing at steep sand and rocks in the natural attractions of Mount Bromo, you will find views of the grasslands with ferns and various beautiful flowers and contrasting green hills in the Bromo Savana.
In addition to small hills that resemble hills in the Teletubbies children's film series, there is also a large hill that towers like a replica of a mountain in the savanna which is also known by the Tengger people as this Jemplang Valley. To get the best view, you should visit it in the summer or dry season. Also make sure you visit it before sunrise because this view of the sunrise is the most beautiful panorama you can see.